Sky Dancers: They Magically Fly! is a video game for Gameboy Advance which was developed by CRAVE Entertainment. It was released September 8, 2006.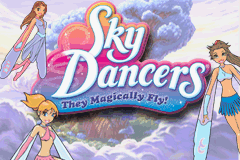 Sky Clone has kidnapped Queen Skyla in attempt to take over the Wingdom. Skyla's three Sky Dancers -- Angelica, Camille, and Jade -- are sent to battle Sky Clone and his vicious henchmen and rescue the Queen using their Fairy Crystals. Angelica is the first Sky Dancer to fly into action, facing off against Sky Clone's minions in the Enchanted Forest. Soon after, Camille joins in, helping Angelica face off against Sky Clone's troops in Sun Kissed Emerald Island and The Sky of Spells. Jade is the final member to appear, aiding the others against an evil witch in the Charmed Castle, and eventually heading to Sky Clone's dominion where they defeat the villain and save Queen Skyla, restoring the Sky Kingdom to its fairytale beauty.
Minigames
Edit
In addition to the main game, there are also three minigames. Each minigame is unlocked after a different level of the game has been completed.
Angelica's Perfect Aim
Jade's Sky Slalom
Camille's Treasure Hunt
Although Sky Clone is mentioned as the villain of the game, he does not actually appear. The only villains from the animated series to appear in this game are the Horrorcanes.